After a glorious and hugely successful career at Hull including playing in all three Ashes tests in 1967 and won a further four test caps against France. His international career ended with appearances for England against Wales and France in 1969.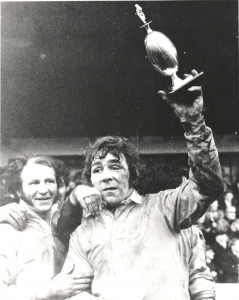 Yorkshire capped Arthur 13 times between 1963 and 1969, his last five appearances being as captain. He led Yorkshire to the county championship in 1968.
In 1971 Arthur transferred to Bramley, where he spent five happy years, firstly as "A" team player-coach and later as first team player-coach. It was in that role that he led Bramley to their first ever trophy success in 1973, when they won the BBC2 Floodlit Trophy, beating Widnes 15-7 in the final. Perversely, the game had to be staged in daylight as Britain was in the throes of a power crisis caused by a miners' overtime ban.   After leaving Bramley Arthur ended his playing career at Batley in 1976, when a badly broken jaw, ironically against Bramley caused his retirement.
Arthur made his try-scoring Bramley debut on the 24th August 1971 in a 23-5 home victory against Blackpool Borough as a centre to Australian Alan Smith.  His final appearance in the famous black and amber was as a substitute for winger Keith Waites on the 12th March 1976 in a 13-6 home success against Whitehaven.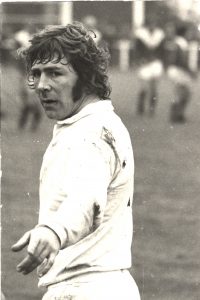 Appearances
1971/72 – 22 + (4 Sub), 6 Tries, 2 Goals = 22 Points
1972/73 –
35, 6 Tries, 19 Goals = 56 Points
1973/74 – 41, 3 Tries, 40
Goals = 92 Points
1974/75 – 28, 4 Tries, 10 Goals = 32 Points
1975/1976 – 4 + (1 Sub), 2 Tries = 6 Points
Total – 130 + (5 Sub), 21 Tries, 71 Goals = 208 Points