Harold Edmondson's claim to fame lay dormant for almost seventy years.  It had generally been accepted that Harold Wagstaff at 15 years 175 days of age on his debut for Huddersfield in 1906 was the youngest player to have figured in first-class Rugby League.  Waggie's claim is now obsolete as it has been conclusively shown that Harold Edmondson, still a schoolboy, played stand-off for Bramley against Bradford Northern on 1st February 1919 aged only 15 years 81 days where he celebrated with his first try for the club in his only appearance that season.
The following season and the first full season since the end of the First World War, saw Harold make it 2 tries in 2 appearances when he scored at Salford in the first match of the season when Bramley secured a hard-earned 8-8 draw.  Further tries followed in the return fixture against Salford (won 18-8), Wigan Highfield in the RL Cup (won 13-0) another in a stunning 17-0 home victory against Huddersfield and finally in the 11-3 win against Hull KR at the Barley Mow.  The 1920/21 season saw Harold play another 13 games for Bramley, scoring tries in the 5-2 home victory against Hull KR and also in the 18-5 success at home to York.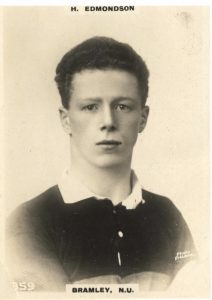 The first match of season 1921/22 brought a brace of tries for Harold as Bramley defeated Keighley 9-0 at home.  In the Yorkshire Cup Harold scored a try at Bradford Northern in a 14-2 victory and added a further try in the 6-0 win at home to Batley after a 5-5 draw at Mount Pleasant.  Harold was rested like many more of the first team when Bramley lost 7-92 to the touring Australians three days before their Yorkshire Cup semi-final at home to Leeds, a match they lost 4-11. Harold finished top of the Bramley try scoring list that season with nine, following 2 tries at home to Featherstone Rovers (won 8-0), a try at Odsal in the 21-0 league victory against Bradford Northern and tries against Huddersfield (8-8) and Wakefield (won 7-5) with both games being played at Bramley.  He also kicked his one and only goal for the club in a 13-5 home victory against Warrington.
Harold's final season at Bramley brought him his final try for the club in a 6-42 home defeat against powerful and talented Huddersfield, while his final match was against Leeds in a 0-21 loss at the Barley Mow.  Edmondson then joined Huddersfield where he played alongside the great Harold Wagstaff, before injury forced him to retire from the game in 1926.