Signed by Bramley from his home town club of Maryport, the 21 year-old stand-off made his Bramley debut in a 5-14 home defeat against Halifax.  His first try in Bramley's colours came in a 10-0 home victory versus Liversedge where he also kicked two goals.  October brought another try when he scored the only points in a 3-0 victory against local rivals Holbeck.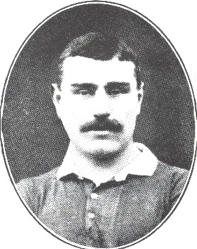 Bradford were the next team to see Lomas cross the try line in a 5-3 home victory with his final try for Bramley being another 5-3 home victory against the Claret and Golds of Huddersfield in mid-January.  Although not known at the time but this resulted in James never scoring a try away from home.  He became the club's regular goal kicker with his best return being four in a 23-0 home victory against Hull KR.  His last points for Bramley being a goal in the 8-2 home victory against Hull and his last appearance was at Bradford where Bramley lost 3-10.  Out of the 32 matches played by Bramley that season, James missed only one, the 2-3 reverse at Liversedge on January 5th.
As word spread about this outstanding player shining for Bramley other clubs started taking an interest with Hunslet and Salford bidding against each other to sign Lomas.  Salford won the chase offering Lomas £30 against Hunslets £25.  There was nothing in it for Bramley as at the time there was no transfer fees.  Lomas signed for Salford and Bramley bitterly protested to the Northern Union.  The Union committee ordered Salford to pay Bramley £100 compensation (the very first transfer fee) or return the player.  Desperately Bramley demanded the choice to pay Salford £100 and keep the player.  The ultimate choice belonged to Lomas and on September 21st 1901 he donned the colours of Salford to start a new stage of his career that would lead to the Captaincy of Great Britain.
His one and only season for Bramley had consisted of:
1900/1901     Apps  31     Tries  4     Goals  21     Points  54