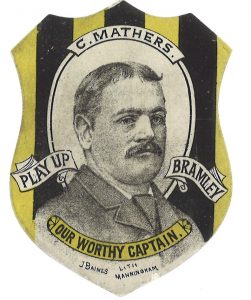 Just as Bramley's long history up to 1999 is not littered with trophies won, and Cup Finals contested the club has not often been in the forefront when representative honours are being distributed.  No player has yet represented Great Britain in a Test Match while on the Bramley books and only one player has won a place in an England side since the club joined the Northern Union (Rugby League) in 1896-97.
Curiously enough as a Rugby Union club, Bramley had its share of players honoured at the highest levels and had it not followed its northern brethren into the paid ranks of the Rugby League Bramley may well have been one of today's foremost Union clubs.  The club's first celebrity and international was a forward as indeed have all the club's internationals been.  This was Charley Mathers who had the distinction of being a member of the First International rugby touring team which went out to Australia and New Zealand in 1888.  The tour lasted a mere eight months! No Tests or International matches were played, but Charley remains the only Bramley player to tour Australasia albeit as a Union player.  Mathers was also the first player from the club to represent Yorkshire at Union making his debut on February 14th, 1885 as the tykes defeated Cheshire at Wakefield by a goal and three tries to two tries.  Charley played six times for the county while with Bramley and a further seven in 1887-88 after joining the Leeds St. John's club.
Two Bramley players represented England under Rugby Union Laws.  The first was Harry Bradshaw, a sterling forward, described by a contemporary critic as "a thorough bulldog in determination, and a glutton for work".  Bradshaw first played for England on March 5th, 1892 when a 5-0 victory was obtained over Scotland in Edinburgh.  In all, he received seven caps between 1892 and 1894 scoring tries against Ireland (1893) and Wales (1894).  He played in the solitary Rugby Union International to be played at Headingley when Scotland defeated England 8-0 on March 4th, 1893.  In addition to his England caps, Bradshaw won 28 for Yorkshire under Union auspices ( 1891-1895 ) in the days when Yorkshire were undisputed champion county.
The other Bramley man to attain England status was policeman W.( Bobby ) Whiteley, another forward who won his cap in 1895-96, Bramley's last season as a Union club.  Whitely was a member of the England side that overwhelmed Wales 25-0 at Blackheath on January 4th 1896.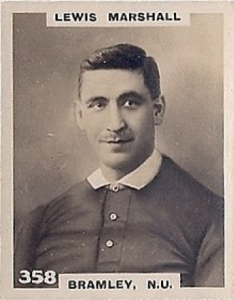 Lou Marshall, who joined the Villagers from Leeds in February 1919 in exchange for winger Squire Stockwell ( later a Test player ), holds the unique distinction of winning an international RL cap while with Bramley.  Marshall played loose-forward for England when they were defeated 13-2 by Wales at Wigan on February 7th, 1923.  Among his team-mates that day were " immortals " such as Harold Wagstaff, Jonty Parkin and Billy Batten.